I have attended another event this week and it's Comifest 2!
I was there to meet up
Dennis
and other friends as this event was near to our location. How can we just miss it out? I have register myself as a media photographer for the cosplayers just for the fun of it. True enough, they have prepare a badge for me.
With this pass, I can enter the pool area to take the cosplayers.Cool!
Dennis and I were welcome by this friendly receptionist cosplayer.
Visitors can write or draw something on the "Guest book" they called Graffiti Marathon.
There are many visitor who drew very well that day on the banner.
I also took the liberty to leave my mark there at a very piece of corner. :P
Beside cosplays, there are actually many booths selling different stuff. One that caught my attention was the game booths. Visitors can play some games for free to win some prizes. Below was one of the game of matching cards of two players and here are the rules.
Players are challenging with the organizer team and they enjoyed themselves.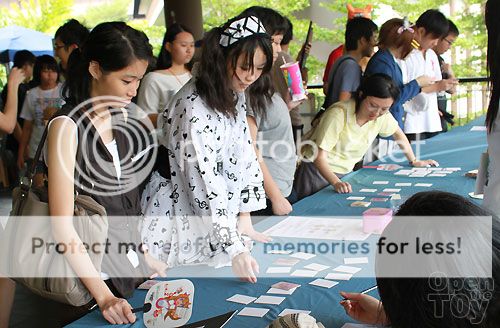 At the event, there was artist LIVE drawing for all to see.Here's Dream Walker who drew the mascot of Comifest.
And after her was another talented artist from
Ninjabrushes
. She drew Miku Hatsune! I like!!
Anyway that's not all for the artist. A famous Singapore comic,
The Celestial Zone
had a booth there!
The booth had many merchandises and they have some good looking poster too.
I saw someone familiar there. It was the artist
Asuka111
whom I met during
STGCC 2011
.
He has some new books and artwork on sales! I know someone had travel a long way even to meet up with him and I understand why. Just look at his works. You can be a fan of
Asuka 111 at his artwork fan page on facebook
!
There were some good looking toys on display at the event too and most of them not for sale.
There was a Chunli doll who did wonderful pose!
For games, there was a card booth for players to play.
It was a Chinese card game named
Generals Order 将军令
.
The card game seems fun and it remind me of a friend of mine who have such concept years ago.
There was a preview of the coming
Online RPG Dragon Nest
. The graphic was amazing and the game seems fun but it is still on beta...
Dragon Nest organized a fanart contest for anyone to draw the Warrior Character and the winner will walk away with an iPad!. Wow!
There were many talented artists who took part and they really mean business.
I was invited to take part. I have no intention of winning but join in just for fun. I drew a sketch of the character in my own style of the warrior in 5 minutes. :P
Do you think I can win an iPad? :P
More of the
cosplayers that day can be found here
!