As 2013, Gundam Unicorn episode 6 is on the way. So if you want to watch it on the big screen on the same day screening in Japan. Here is your chance!
Episode 6: Two Worlds, Two Tomorrows. Here is the trailer.
From now till 22nd February 2013, you just need to buy some model kit to redeem your tickets by filling the redemption coupon and send to SHENG TAI TOYS PTE LTD.
You need to purchase the following kit to get 1 Tickets such as HG RGM-96X Jesta Cannon or Rozen Zulu.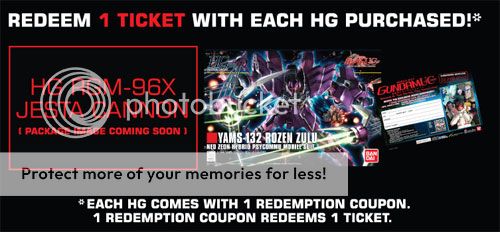 If you get the MG Banshee Unicorn Titanium finishing version, you will be entitle to redeem two tickets.
Please note that even you have the redemption ticket, ticket will be redeem in first come first serve basis.
The date and venue will be finalist and will inform you later as it has not be finalise.